How to **NOT** Kill Your Quarantine Partners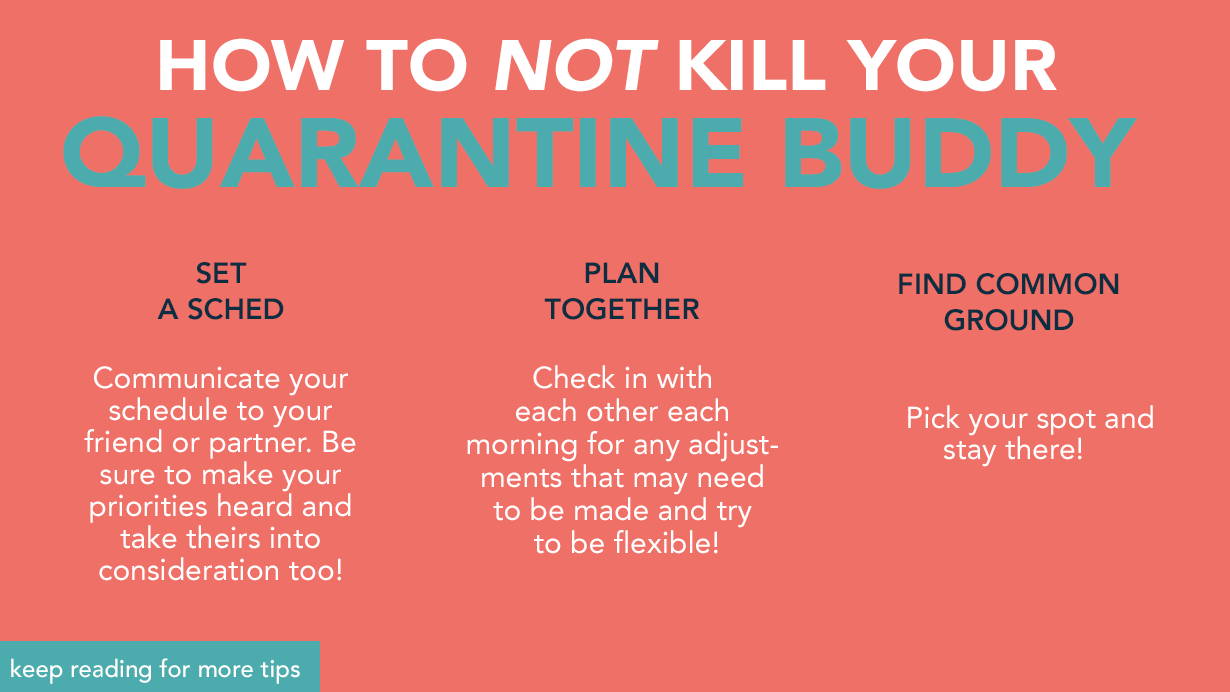 HOW TO **NOT KILL YOUR QUARANTINE BUDDY
We're all social creatures. For those of us who live in big cities like NYC, LA, DC, and MIA we are feeling all sorts of crazy being cramped up in our apartments. Throw a dog and another human being in there and you're SHOOK. "What do I do?!" "How do I handle this #quarantinelife situation?" " I deff need some personal space."Well, lucky for you, we have spent the last two weeks in quarantine and have come up with some solutions that can help us all.
1. Set a Sched: Be sure to set your schedule and communicate with your friend or partner about what you have going on that day. Be sure to make your priorities heard and take theirs into consideration too! This is also a great time to decide on what parts of your day you may want to include them in.
Breakfast/Lunch/Dinner
Meditation
Workouts
Work hours: what times during the day will you be on calls and need complete silence?
Shower/Bath
Movies
2. Plan Together: Even though we all set our schedules, things happen. Check in with each other each morning for any adjustments that may need to be made and try to be flexible! Hey, we're all navigating COVID-19 together, right?
3. Find Common Ground on Common Space: A lot of us might be feeling very constrained in smaller apartments, especially our ENVSN fam in NYC. Be sure to:

Communicate and plan with each other: Scheduling a video call? Double check with your roommate to see if his conflicts with a video call they may be having.
Schedule meetups: For example, 12pm let's meet in the kitchen and make lunch!Schedule "Adventures"
Partner workouts *checkout our IG LIVE every Thursday at 1pm!
Movie dates ** Tiger King anyone?
Dinner dates or cook-off
Create a Tik Tok **If you do so, share and @-tag us!
Join Live ConcertsMake each other's favorite drink
Create easy and fun games to play and ask questions that only that person or a few people may know about you.