Healthy Snacks Delivered to Your Door
Having trouble staying healthy and creative when it comes to COVID-19 snacking? Well we were struggling too, until... BUBBLE Goods. With the desire to remain healthy in this time of craze, we wanted to share one of our favorite online health food market places.
Bubble Goods: The Most Transparent Food Marketplace.
Mission: Transparent food system. Curated for customers. Protected by standards.
Sorry to Burst Your BUBBLE . . . But today's food system is loaded with refined sugars, dyes, gums, and preservatives. Enter the BUBBLE Approval Process — a strict test formed to disrupt and create change in a stale food system.
The BUBBLE Stamp Of Approval Each and every product sold on BUBBLE goes through the BUBBLE Approval Process — a rigorous set of standards constructed by top chefs, nutritionists, Eastern and Western practicing doctors in order to gain their BUBBLE Stamp Of Approval.They look at the labels so you don't have to. Each BUBBLE Approved good is truly clean label — For the full roster of what we do and do not allow, check out our Naughty and Nice List.
Products on BUBBLE contain:

Whole fruits, grains, and vegetables

Some added natural sweeteners: whole fruit juices, honey, maple, coconut sugar . . . etc
Products on BUBBLE do NOT and will never contain:
Refined or artificial sugars
Preservatives, fillers, or gums
Artificial dyes
Trans fats or hydrogenated oils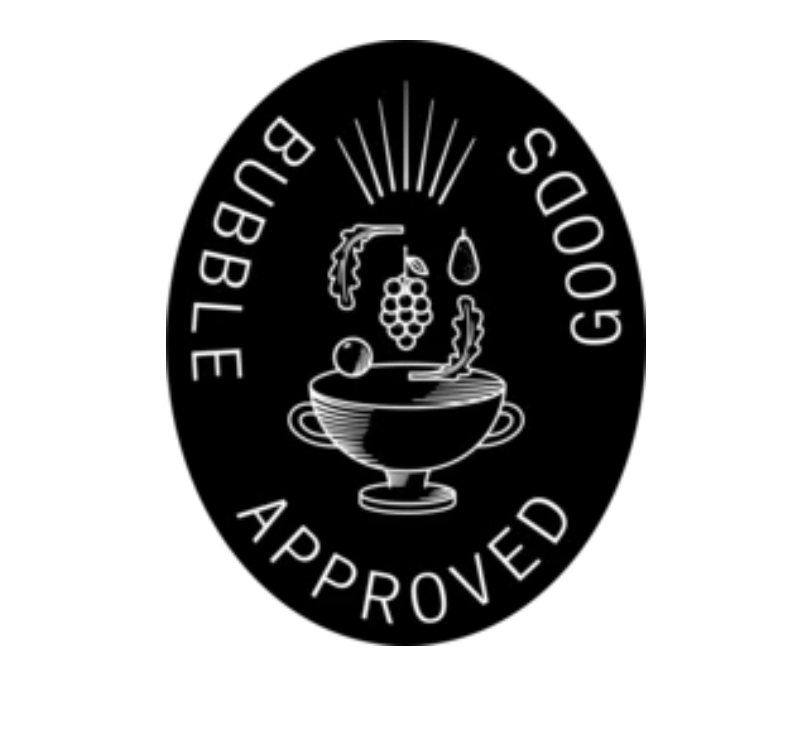 Taste-Tested: BUBBLE Approved goods are not only good for you, they are also tasted by BUBBLE's team and community of experts to ensure that they are delicious and the tastiest of its kind. Just because it's healthy, doesn't mean it has to taste like cardboard ;)
InnovativeCategory Leaders: Look for the game changers — products that are best in class and reflect BUBBLE's beliefs for transparency and a new food system.
Sourced and ProducedResponsibly: A thorough background check that each food maker is food safe certified and